Errors and Fixes
Easily Solve The Problems By Yourself !
Common Errors Faced By Users and Their Easy Fixes.

Most Errors Will Get Fixed Just By Restarting Your Application or Sytem. But Some Errors Need Guidance, Here I Will List Out All The Problems Faced While Using The Application and Their Fixes ! Read Help Guide Page For Using The Software Properly.
Software Won't Run and Will Crash If There is No Internet Connection ! Kindly Check Your Internet Connection Before Opening The Software !
Pre Installation Errors
You Can't Install The Setup File If You Don't Have Microsoft .Net Framework 4.6. Kindly Download and Install It From The Given Link and Run Setup Again.
Unhandled Exception "CefSharp.Core.dll"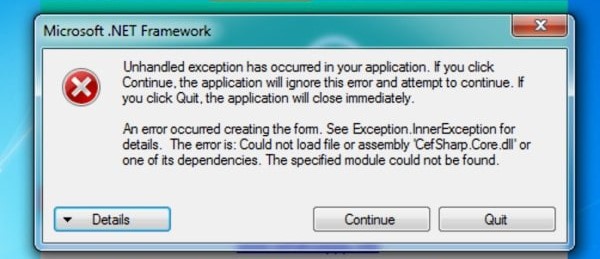 Download and Install The VS Shells and C++ Redistributable Support File From here and Then Restart Your PC Problem Fixed
Microsoft ACE OLEDB 12.0 Error
If You Are Facing Any Error While Importing Excel File, Make Sure You Download And Install Microsoft Access Database Engine 2016 Redistributable From Here and a System Restart
Post Installation Errors
If Messages Are Not Sent Try Pasting The Message In Notepad Once and Paste Again To The Message Box and Also Remove The Special Characters or Symbols in The Message If The Problem Persists

Make Sure You Add Country Code To Numbers Without + Before Sending, If Not Your Messages Won't Be Sent or Filtered

Use Blind Mode While Sending To Unknown or Unsaved Numbers, Else Your Message Will Fail

Black Margins In WhatsApp Web Browser is Due To Scaling Problems, Set Your PC Display Settings To 100%

Unable To Load Latest API Error Occurs When There is No Internet Connection
How To Unban Your Whatsapp Number

Open Whatsapp Application and Enter The Banned Mobile Number That You Want To activate.

After Entering You Will See A Message "Your Number is Banned from Using WhatsApp" on Your Screen.

Click on The Support option on the screen and Mention A Genuine Reason and Apologize For The Mistakes. Click On Next Option.

Click on The option "This does not answer my problem". You Will Now be Redirected to The Email App and It Automatically Fills The Email So, Just Click on The Send Button.

WhatsApp Support Team Will Look Into This Issue Within 48 Hours of Your Request and Will Reactivate Your Number If They Have Accepted Your Request Email.
If You Are Still Having Errors ! Feel Free To Message us On Whatsapp